USS Butte, AE-27, 1970 Mediteranean cruise 1970-1971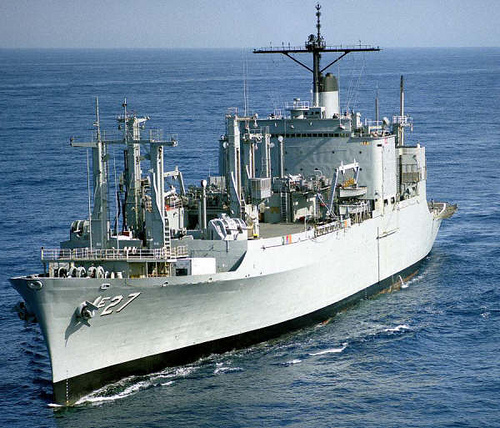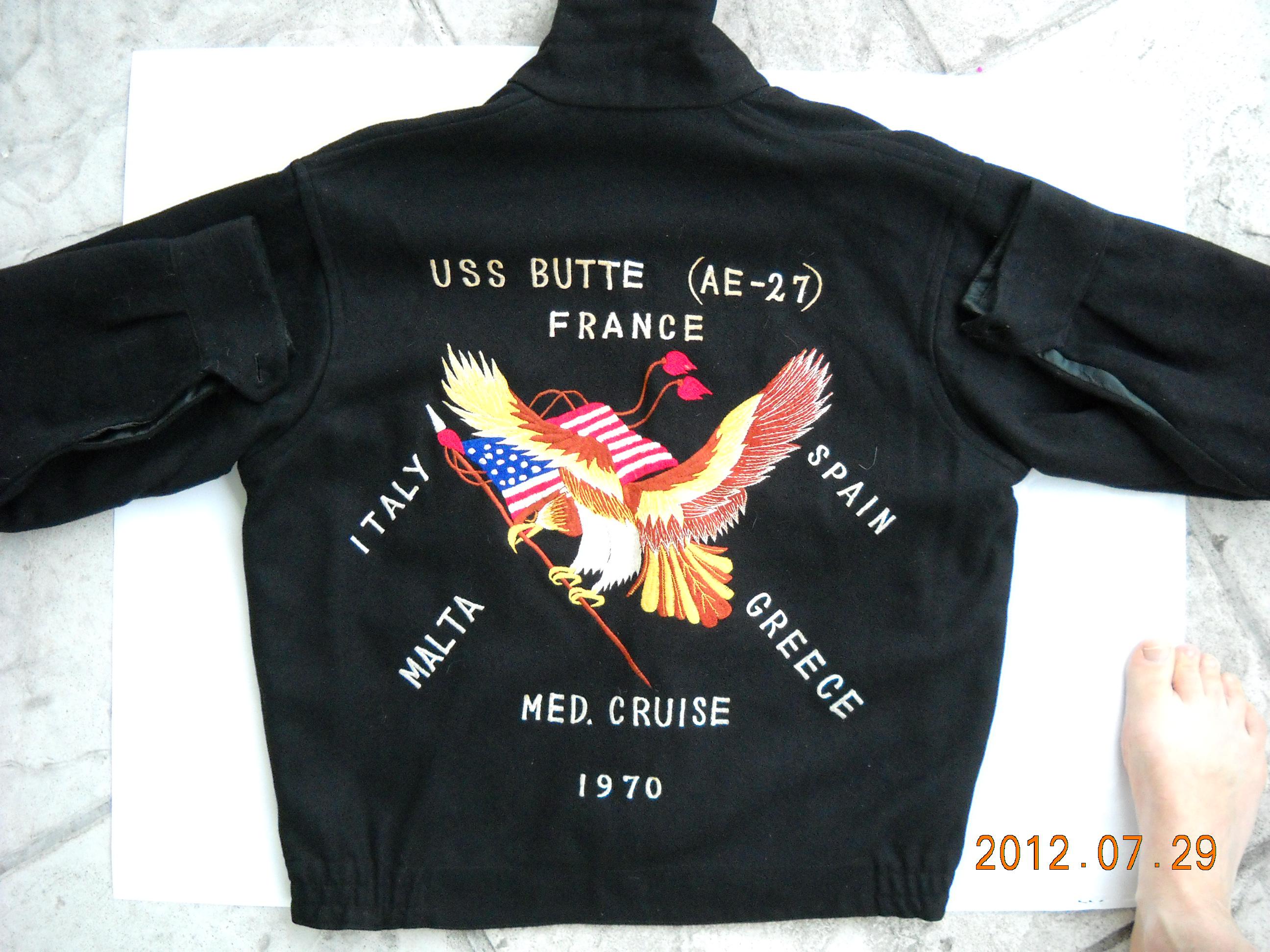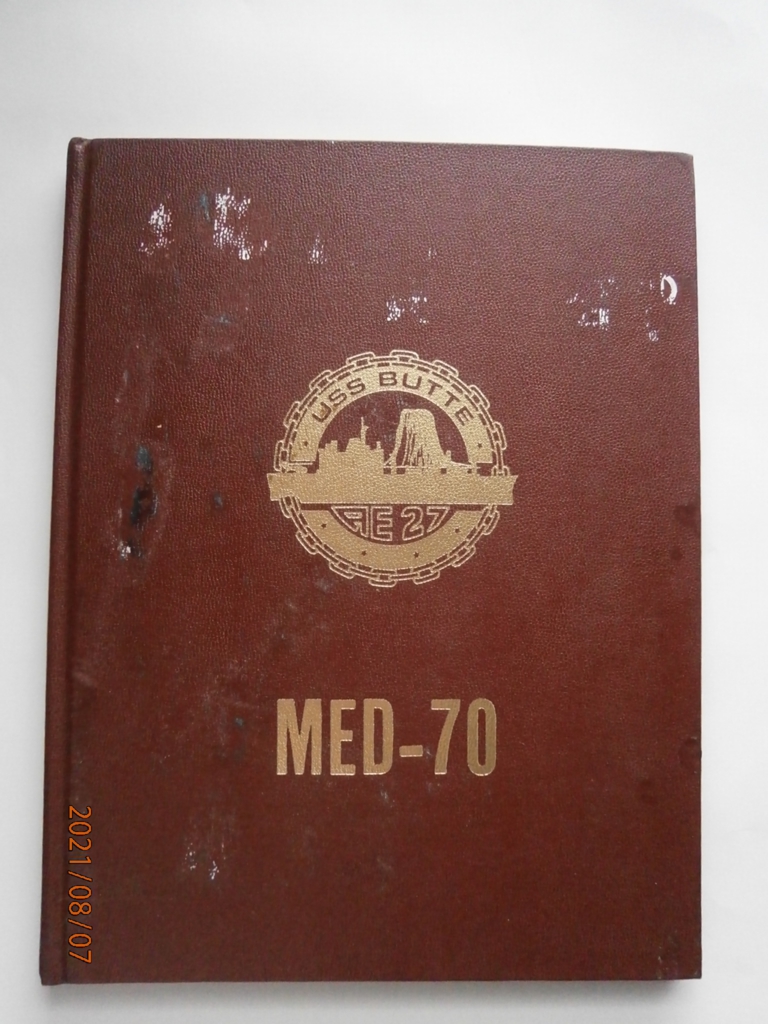 The Butte was my first assignment out of boot camp in March 1970.
I boarded her in Norfolk, VA, but I was too late to be a plank-owner.
We first sailed to the Caribbean and got liberty on the Island of St. Thomas;
Big Mak and I went to a beach and got sand-flea bites.
We then sailed from Norfolk, VA to Earl, NJ to load ammunition for the first time.

Then we sailed across the Atlantic for the ships first Mediteranean cruise.
I was at the helm when the Butte passed through the Straits of Gibralter for the first time.
I believe that Boatswains Mate 2nd Class Walker was on the bridge also
but his name is not in the Med Cruise book.
Also the man in the bunk next to me has his photo in the book,
but no name, and I cannot remember it, we called him 'Billy Boot',
I think that he was from West Virginia, he was a good guy.

I saw a photo online of the sinking of the Butte,
it asked if any viewers were offended by the photo;
I thought: "not offended, but sad; it was my home for a year."

Each time we finished an underway replenishment, the captain would play
'The Lonely Bull', a 1962 song by Herb Alpert & The Tijuana Brass, over the loud-speakers.
He would also say something about 'standby to engage the turbos' (in jest);
some of the small ships that we replenished did have turbos.

On its return trip from the Mediteranean across the Atlantic, the Butte
was asked to supply fuel to a destroyer. There was a large storm and
the waves were so big that the destroyer would surf down a wave,
go completely under the water, and we could see the propeller turning
as the stern came out of the water. The sailors on the destroyer
were tied to the ship. We were unable to replenish them in the rough seas.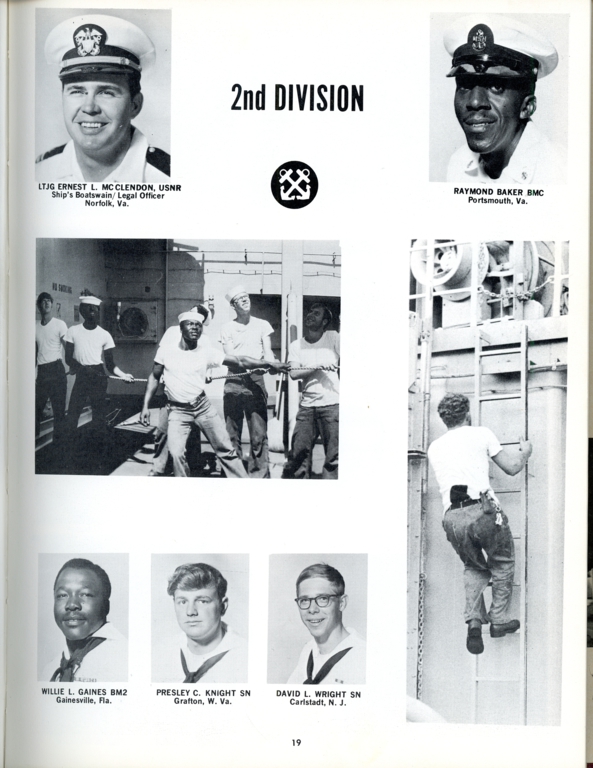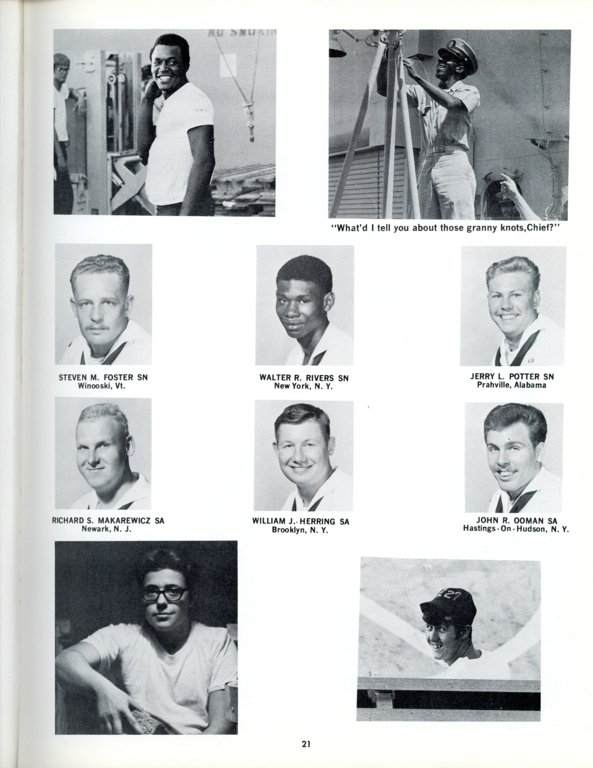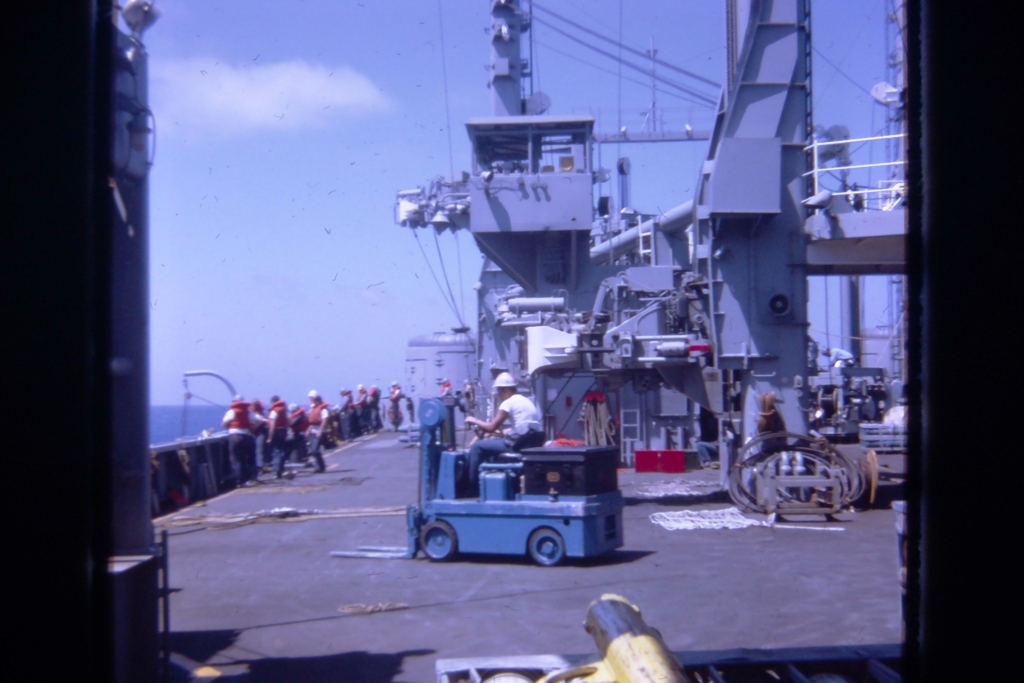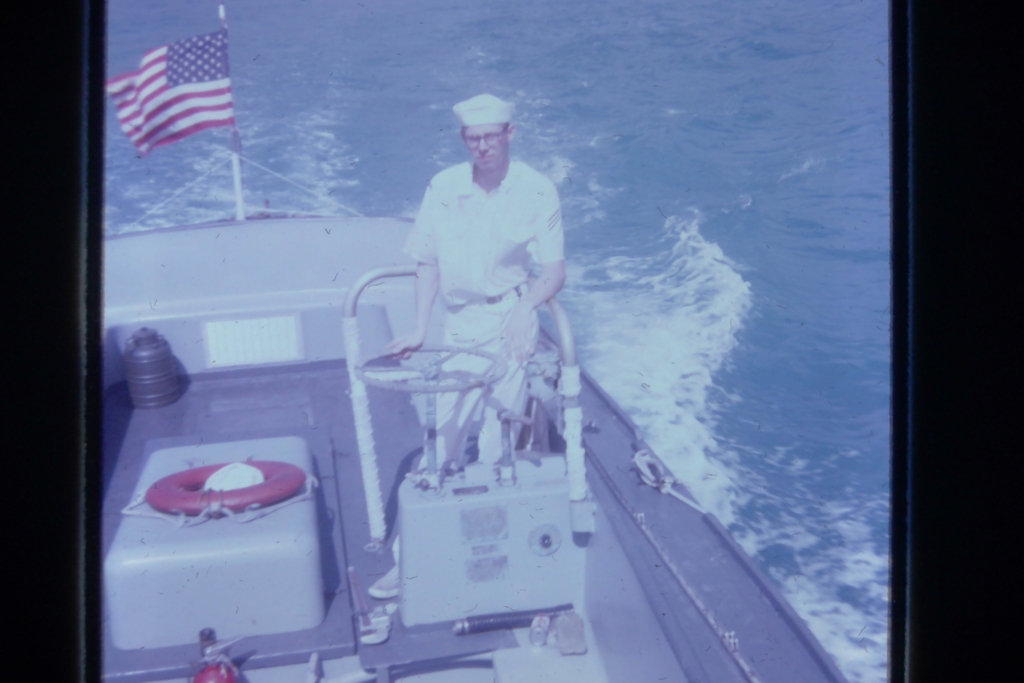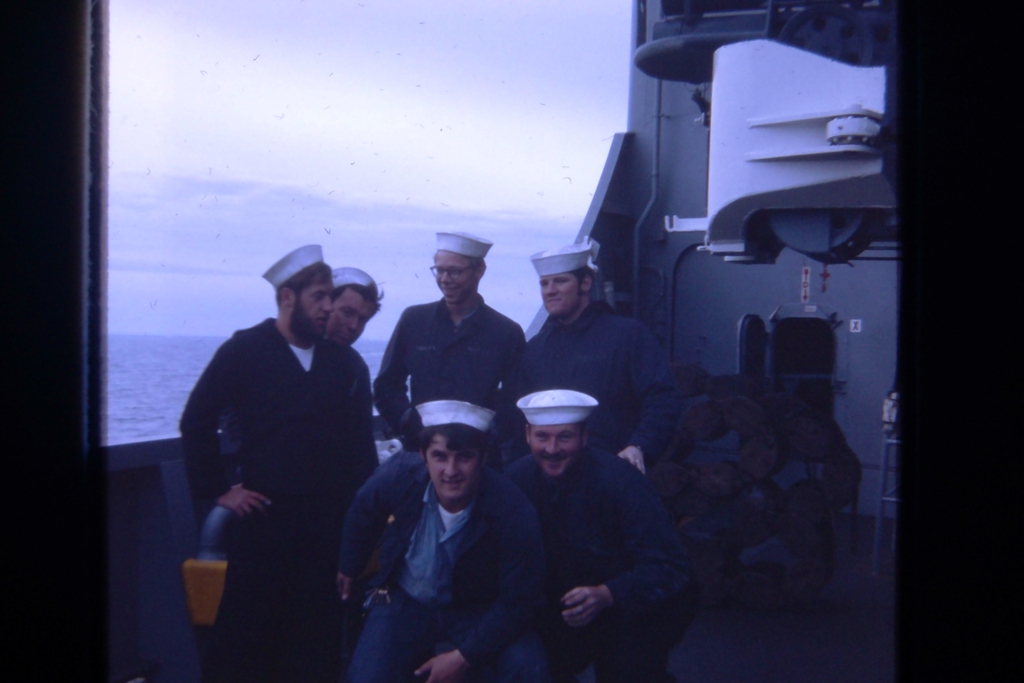 That ship in the background is Russian. Leftmost in the above photo is 'Billy Boot';
I do not remember his real name and I cannot find him in the Med-cruise book.
One of our rotating duties was to sort out the cleaned laundry and put it on each mans bunk,
so you had to know everyones name and where they bunked.
'Billy Boot' had the bottom bunk on the right hand side as you came in the bunkroom door.
I also remember him standing watch with me one night, telling me stories about the farm, in West Virginia I think.
I was on helm, Billy Boot was on Lee Helm, it was late night and the bridge was empty except for those standing watch.

In honor of "Big Mak" my friend for my year on the USS Butte, both of us serving under Chief Baker.
Big Mak hailed from the Ironbound section of Newark, New Jersey.
If anyone has information or photos of Big Mak, I would like to hear it, or get a photo.
The S. for his middle name was Stanislaus.
I think that Big Mak went home to Newark, NJ, after his first enlistment was up.
Soon after, his mother died, which devastated Big Mak;
he was still living with his father. 1974 ?
The next time that I went to his house it was boarded up, and I never heard from him again.
I am guessing that his father died and Big Mak had no relatives, no money,
and no place to live, so he re-enlisted.

Big Mac used to say:
"The man with the plan, the boss with the hot sauce
with the bar in the car, and the toast in the roast"
I have no idea where he got that from.
He used to say, sarcastically, about someone who offended him: "You're of no use to me !";
he got that from a movie that we saw on the Butte.
He also used to repeat something from Jimmy Hendrix, but I have forgotten what.

At the USO in Naples, Italy, we listened to Little Jeanie by Elton John, multiple times.
We went on the Butte bus trip to Rome together, where wine was cheaper than Coca Cola !

Long after he died I found him on the internet;
Big Mak is buried in a military cemetary in southern New Jersey.
I got lost looking for the cemetary,
and I had a really hard time getting that photo, the sun was all wrong.
If I had not known his birthdate, I never would have found him.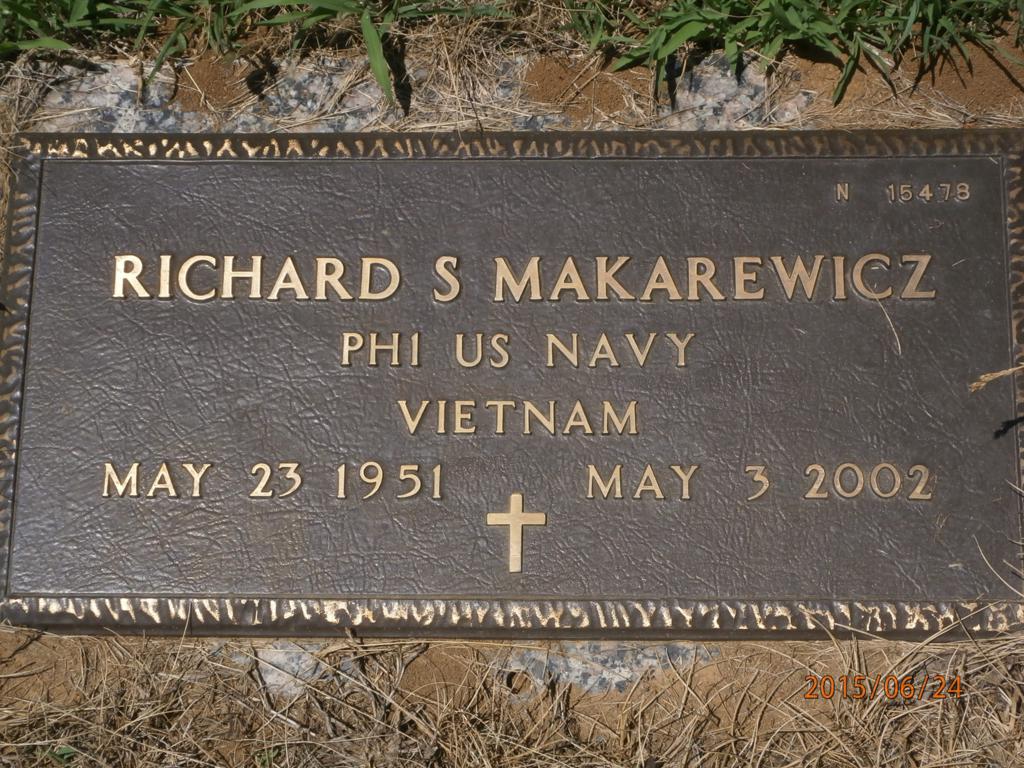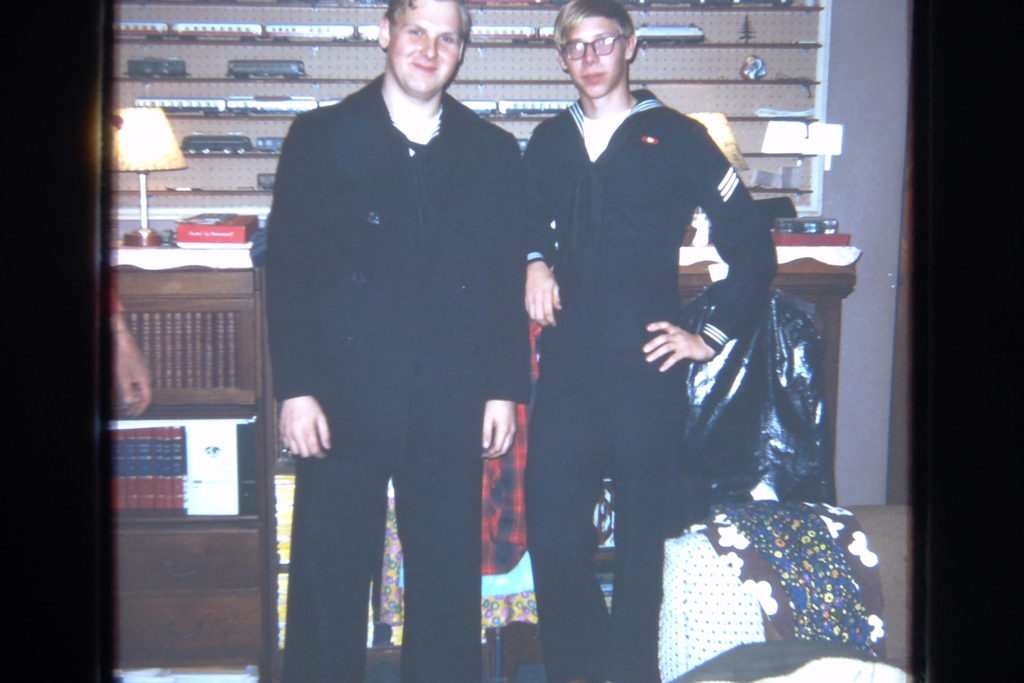 Anyone having further information about Big Mak, please email me at the address at the bottom of this page.
All that I could find online was:
Richard S. Makarewicz, 54, of North Caldwell died on Friday, May 3, 2002, at St. Joseph's Medical Center in Paterson.

Photos have been downsized, contact me for slightly better copy.

Butte links: (Still valid Aug.2021)
http://navysite.de/ae/ae27.htm <-- Navy detailed information
http://navy.togetherweserved.com/
http://navysite.de/crewlist/ <-- may not work, need to sign-in?
http://navysite.de/index.htm
http://www.HullNumber.com/AE-27 <-- has unofficial deployment list
http://www.navsource.org/archives/09/05/0527.htm <-- photos of ship and information
http://wikimapia.org/8936014/Wreck-of-USS-USNS-Butte-T-AE-27
http://www.myspace.com/video/vid/7735185#! <-- out of focus video of the sinking.
http://www.flickr.com/photos/15194330@N03/2977728144/
http://www.flickr.com/photos/15194330@N03/2976872183/sizes/m/in/photostream/ <-- great photo, too bad no date.
http://www.youtube.com/watch?v=J0g_GMz8cdo <-- 04Sept2021 got 'video unavailable'.
https://www.youtube.com/watch?v=wLVFB_MuWkc
https://www.youtube.com/watch?v=nA_zs1alwoU
https://www.youtube.com/watch?v=It7qeupYM-o - circa 1978-80 ? has some good photos in 2nd half
https://www.youtube.com/watch?v=ksqZiELHdO0
https://www.youtube.com/watch?v=nq_jHCJXSCA (1991)
also search youtube using: Lonely Bull, tiger cruise


After leaving the Butte I went to Radioman A school in Bainbridge, MD,
then spent a year at the Naval Air Station in Norfolk, VA,
where one of my friends was 'Rosie Rosenkrantz'.
After that I served with COMCARDIV 2 in the Mediterranean until August 1973;
I was on the carriers U.S.S. Roosevelt, U.S.S. Forrestal, and U.S.S. Kennedy, with Admiral Turner.

Return to Home Page.